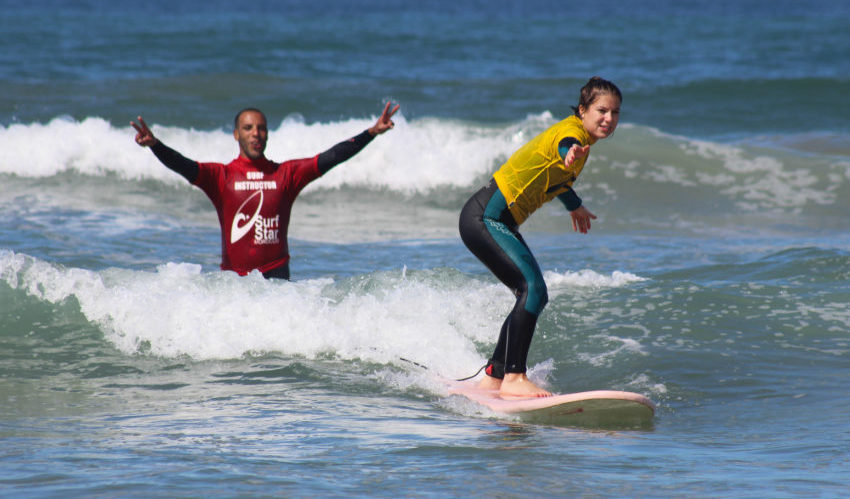 Riding a wave is one of the best feelings in the world! And there's no better place to learn than at a surf school with daily lessons, experienced qualified staff and fun people to share the experience with! This package is aimed at guests who have not surfed before or have tried it once or twice.
You will learn some or all of the following during your surf holiday
Beach safety and about surf equipment
Positioning yourself correctly both on the surfboard and in the ocean
How to paddle, pop up and ride your first wave in the broken white water waves
How to get 'out back' to the green unbroken waves and ride them in to the beach!
How to play with speed and turn in both directions
You will learn about rips, tides and surfers etiquette
The sky is the limit. Our easygoing, friendly and hardworking surf instructors use a mix of group and individual feedback to give you the tuition you need to have fun and progress your surf skills. When back at the surf camp we even take the time to give you photo or video feedback sessions so that you get the very best surf lessons in Morocco and the most out of your surf camp experience.
Feel safe and have fun with our experienced, patient and internationally qualified surf instructors. Check out our Trip Advisor reviews!
---
Your Surf Lessons Package includes
Daily Surf lessons/guiding for your level, surfboard & wetsuit hire, and transport
Surf house accommodation with room cleaning and 3 ocean view terraces!
Daily big breakfasts, tasty lunches, water bottle, fresh fruit and snacks
6 Delicious Moroccan dinners per week by our resident Berbere chefs
Surf photo feedback sessions and photo service available
Organised social night out and excellent optional extra activities
Agadir Airport or Bus Station Transfers*
* Free Agadir transfers are included in the 5 nights/+packages. Agadir Airport transfers cost €20 per way. Agadir Bus Station or Agadir Hotel transfers cost €10 per way.