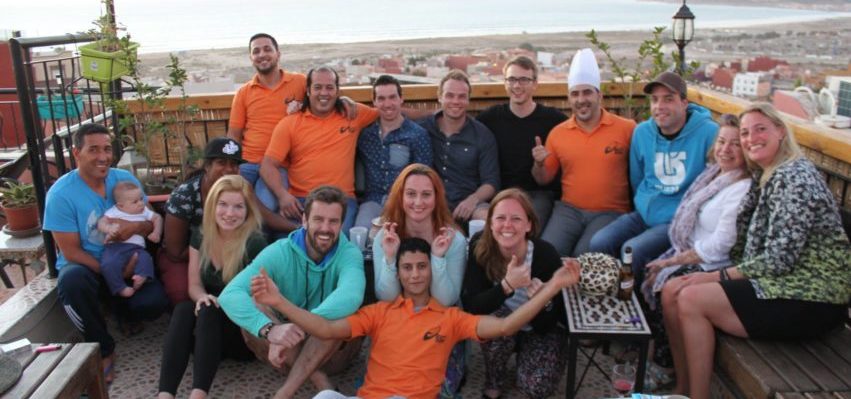 An Excellent Reputation For Over 8 Years
What makes Surf Star Morocco so special? Surf Star Morocco is #1 on TripAdvisor and holds a Certificate of Excellence for consistently earning excellent reviews from surfers and yogis from all over the globe. Surf Star has an incredible global reputation, over 8 years of experience, and continuously attracts returning guests. With it's multicultural guest base, you can make friends from all over the world as well as befriending the locals. Choose us for a company with responsible and sustainable ethics helping local Moroccan people. Surf Star has a reputation for its family-like welcoming vibe and for making people happy! The team are friendly, charming, kind and professional. We love bringing people to their absolute best selves, leaving with a soul fill of happiness and a surf yoga holiday they will never forget.
Working from their hearts, our unique surf star team are like a big friendly surfer yogi family! We aim to offer endless kindness, dedication and openness to every guest. Our surf camp crew are hardworking, love-able and super experienced. We do our best to make your surf yoga holiday one of the best times you've ever had. Travel is more about creating lasting memories, making lifetime friendships and  meeting the right people. This is what makes Surf Star Morocco so special. A lot of the team are from the local area offering an authentic, cultural and magical insight into the real Morocco. Here are some of our team…
---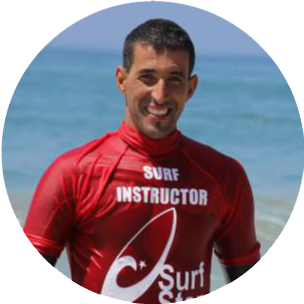 MOMO
Surf Camp Manager, Surf Coach and Owner
Momo is our talented surf camp manager,. He build the company up from scratch driven from his passion for surfing and making people happy. He is also an experienced and knowledgable surf instructor from nearby Paradise Valley.
---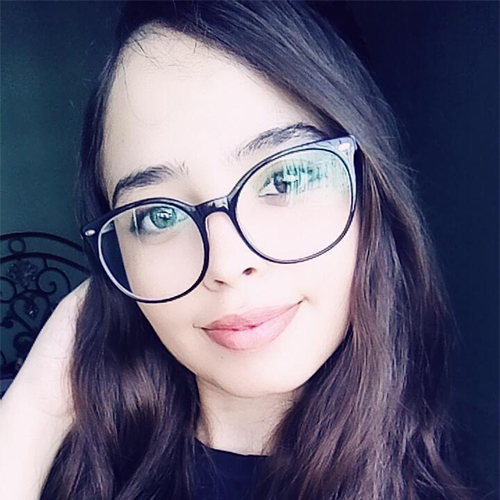 MALIKA
Office Angel and Host
Malika is not only friendly, optimistic, fun-loving and organised but she will also do everything she can to make you laugh and feel welcome. Her awesome personality shines through and she will ensure you feel relaxed, welcomed and cared for from when you arrive until you wave goodbye!
---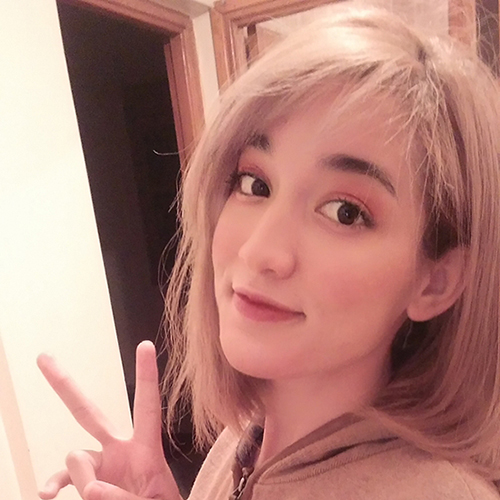 BUSHRA
Office Angel and Host
Bushra is balanced, kind, intelligent, fun and loves meeting new people. She is dedicated to make sure your holiday is the best noticing guests needs before they have! You will be in safe hands when she is organising the details of your holiday so you can relax and enjoy!
---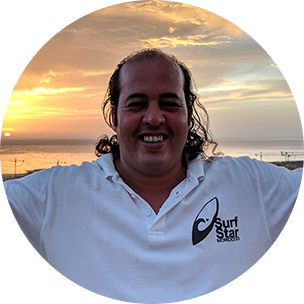 KHALID AKA
'Boss'
Surf Camp Manager with the heart of gold; Khalid can make you cry with laughter! He is dedicated to making sure your stay at Surf Star is as unforgettable, wholesome, and that you have the most fun you possibly can. He is excellent at finding solutions, caring for anyone in need and has incredible social skills. He's a living Moroccan legend!
---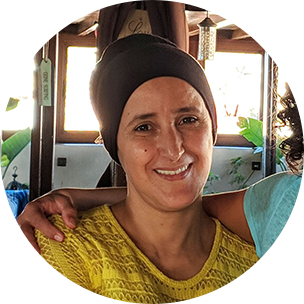 FATIMA
Chef
Kind-hearted, helpful, beautiful and fun-loving; Fatima works from her heart and cooks food with love, happiness and ease. Her healthy and delicious meals will make your mouth water and her sweet, loving personality makes her a respected part of the Surf Star family.
---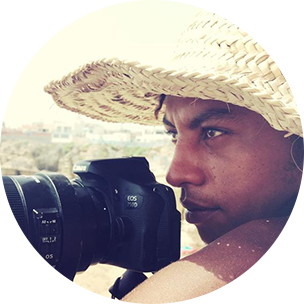 MOHAMED
Photographer and Incredible Musician
Mohamed abounds with the hospitality that Morocco is famous for. Always quick with a smile and a laugh, you'll often find him on the beach snapping gripping shots of surfers out on the waves. Mohamed is a man of many talents, including being a very accomplished singer and musician. Don't miss him around the firepit on the rooftop.
---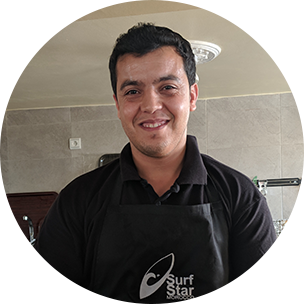 LAHCEN
Head Chef
Thanks to the dedication, skill, creativity and excellent work ethic of Lahcen, the delicious food at Surf Star has made us one of the more successful surf camps in Morocco. He is a loyal, fun-loving, kind, and talented guys who is a valued team member at Surf Star.
---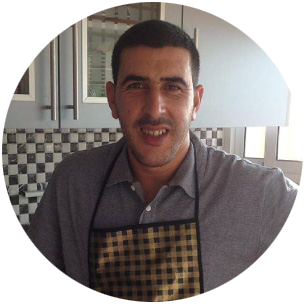 BRAHIM
Chef
One of the kindness, open-hearted and hilarious guys you could meet; our chef Brahim is dedicated to making delicious healthy meals for all diet requests. Being a family man, his wife Mina also comes by to offer henna. They are the sweetest!!!
---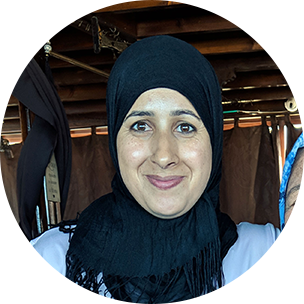 KHADIJA
Chef and Cleaning Management
Khadija is a fun-loving, kind, dedicated mother of 3 and her smiles are just gorgeous! She does all she can to ensure you are nurtured, relaxed and at total ease through loving kindness, and clean, organised, comfortable surf house accommodation.
---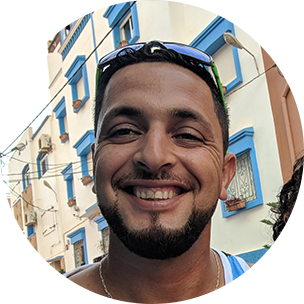 IBRAHIM
Driver, Handy Man and Musician
We are lucky to have this amazing man on our team. Brahim is a kind-hearted, dedicated, hardworking and friendly who has been with surf star for many years. He is always shining with a smile and a warm greeting. Be sure to catch him in the evening on the rooftop terrace playing Berber guitar or drums.
---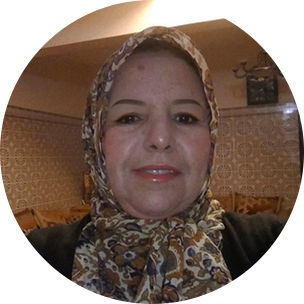 KHADIJA
Cleaning Management
With a heart full of love, Khadija cleans, organises and sprinkles rainbows around the house spreading good vibes with her hard work. She is super strong, hilarious and tough and works tirelessly to ensure that you and happy, cared for and that your accommodations is sparkling clean.
---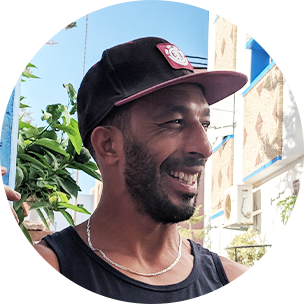 HASSAN
Surf Coach
Hassan has an addictive passion for bringing the best surf skills out of his students! He is professional, patient, funny, kind and dedicated. He has relaxing presence in the water when he's not cracking jokes! Just what you need! He's here to help you advance and is keen to help you learn in a way that allows you to catch waves on your own.
---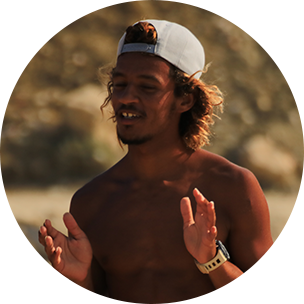 ABDOLLAH
Surf Coach
Our resident comedian, Abdollah wants to make sure you're having a great time on the waves. Remember surfing is about having fun, his beaming smiles, incredible humour and epic coaching skills makes him part of the surf star family! Beyond a good laugh, he's keen to give you the advice you need to keep you catching waves.
---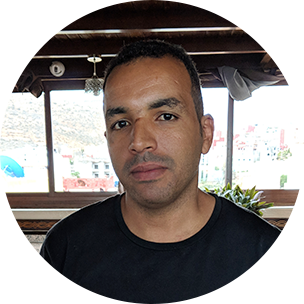 ABDOLLAH
Handyman
Abdollah is happy to help and can be seen helping the staff keep Surf Star running at top notch. Friendly, kind, and always with a bright smile on his face, he's just happy to know you're having a great time. Such a sweet soul, be sure to catch him working hard to ensure you're happy!
---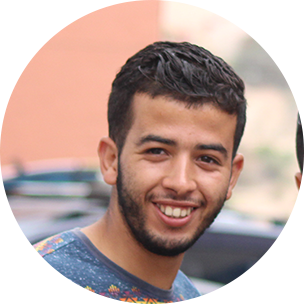 SOUFIAN
Driver
His personality shines brightly as he drives you from A to B. He loves meeting people from all over the globe and is never without a kind smile and at the ready for a good laugh. You'll see Soufyan wearing a lot of different hats at Surf Star, from driver, to photographer, to musician.
---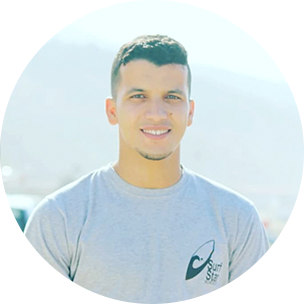 MOHAMED IDER
Driver
Calm, safe, fun-loving, friendly, cool and kind; Mohamed takes care of guests with great attention to detail. He'll make sure you get to surfing and back home safe and sound ensuring you have everything you need and that you feel relaxed and at ease.
---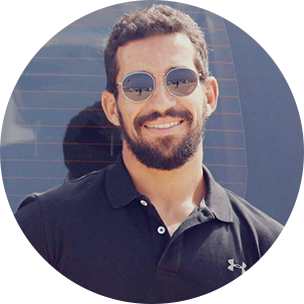 MOHAMED HADADD
Driver
Incredibly talented surfer, Mohamed will make sure he gets you to the waves you have been dreaming of. As well as being a safe, dedicated driver, Mohamed will make sure you are happy and safe at the beach too. Have a soulful chat and a nice cuppa Moroccan tea with him and you'll gain insight into Moroccan life in no time at all.
---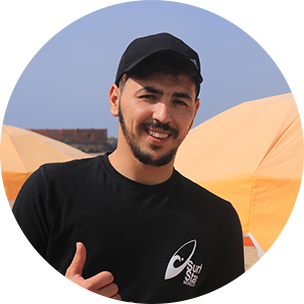 NORDIN
Waiter, Chef and Music Man
Funny, helpful and friendly: Nordin makes sure all of your meals are perfectly to your liking. But his talents don't end there! Be sure to check him out in the evenings on the rooftop terrace, he's a Berber musician, a natural comedian and makes us all laugh with his great sense of humour!