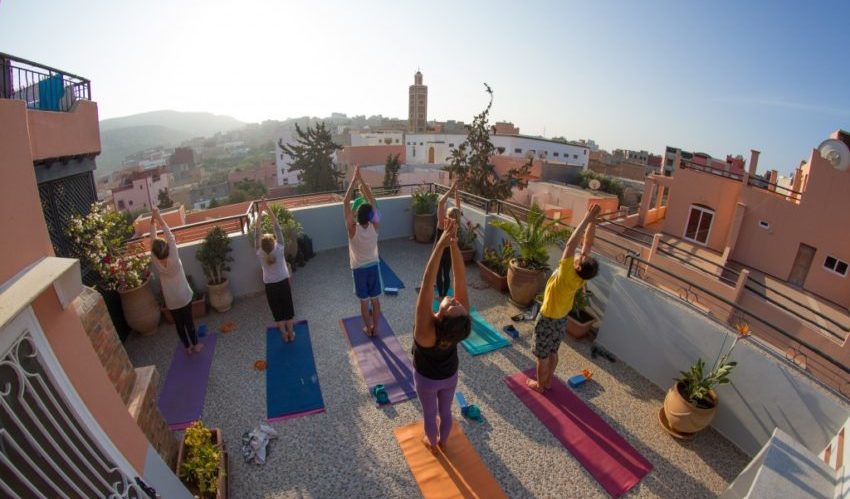 Practice 2 Yoga sessions daily
Yoga sessions at Surf Star are something truly special! We create a soulful peaceful space to help you find perspective, build resilience and reconnect to the important things in life. Offered twice per day our dynamic uplifting yoga programmes include a mixture of; vinyasa flow, yin yoga, AcroYoga, therapeutic yoga massage, restorative yoga, pranayama (breathing exercises), meditation, yoga philosophy, positive psychology, and scientific research.
Practice yoga at sunrise and sunset, learn to surf in clear waters and stay in relaxing accommodation. Eat delicious, healthy and nutritious Moroccan cuisine. Explore a vibrant culture in glorious weather. Spend time with good people and feel like you're at your best. From the moment you arrive you will be welcomed into the relaxing vibe. Our Yoga retreats are designed for all yogis and we offer lessons and coaching for all levels of surfers so come and give surfing a try!
Surf Star have created the Surf Yoga Retreats with you in mind. Experience revitalizing Vinyasa flow sequences, relaxing Hatha poses and dynamic Ashtanga classes. Fueled by our passion for making people feel at their best, our yoga classes' compliment the days surf sessions by stretching out worked out arms, lower backs and shoulders. Our teachers are experienced, qualified and specifically selected for their uplifting and inspiring approaches to the practice of yoga. Whether you are a yoga teacher looking for an escape in the sunshine, or a total beginner, everyone is welcome to enjoy yoga at Surf Star's unique and active retreats.
---
About the Yoga Setting
Berber Morocco offers one of the brightest, friendliest cultures in the world. Locals have created an art out of relaxing with friends, drinking mint tea and living a stress -free life. Add the fun, energizing and laidback surfer's lifestyle to that mix and you will find yourself in Tamraght and Taghazout in our brand new surf camp, the perfect location for your Surf Yoga Retreat! Yoga classes take place on our rooftop terrace – the spectacular ocean view is instantly calming and as the sun sets the colours of the sky are reflected across the ocean waves. Our stunningly beautiful ocean view terrace shows a 180° view over 6 surf spots and the beautiful Atlas Mountains.
Healthy Hearty Meals
Created by our fantastic local chef Brahim, we are pleased to offer delicious Moroccan cuisine – evenings per week. With hearty vegetarian options you have no problem getting all the fuel you need for your surf and yoga sessions. We recognize the need to eat healthy hearty meals when exercising so dinners are served as a buffet each evening on the ocean view terrace after yoga. Enjoy a tasty selection of breakfast plates includes local fresh fruits, yogurts, pancakes and healthy smoothies
Massage
Surf Star have included a 1 hour full body massage for you as a treat for booking our 14 day Surf Yoga Retreat. Enjoy the reviving foot massage in Rose Water before relaxing for a full body Argan Oil Massage in our local Massage Parlor. Hammams are also available, which increases circulation and exfoliates your skin. Find out more about surfing element by clicking on your surf level: Beguinner or Intermediate & Advanced.
Check out the daily surf and yoga retreat schedule and other useful information below.
---
Dates
Like our yoga teacher, we are flexible when it come to our schedule! We offer ongoing yoga surf retreats to make life easier for you and to bring in a fun mix of people from all over the world. Most guests tend to arrive on Saturdays but this always depends on the flight schedules. The closest airport is Agadir and easyjet, monarch, thomson and skyscanner offer great deals to this airport. Marrakech is the second closest airport and ryanair offer very cheap flights here from most main european airports. So send us a message and we will check availablity for you! Please book ASAP to ensure your space is reserved.
Surf Yoga Retreats include
The option of 1 or 2 yoga sessions each day (excludes Saturdays)
Beautiful Ocean view yoga spaces overlooking the ocean with blocks, straps and mats available anytime you wish to practice
1hr Argan Oil Massage (1 free for 2 week stays)
Daily Surf lessons/guiding for your level, surfboard & wetsuit hire, and transport
Surf house accommodation with room cleaning and 3 ocean view terraces!
Daily big breakfasts, tasty lunches, water bottle, fresh fruit and snacks
6 Delicious Moroccan dinners per week by our resident Berbere chefs
Surf photo feedback sessions and photo service available
Organised social night out and excellent optional extra activities
Agadir Airport or Bus Station Transfers*
* Free Agadir transfers are included in the 5 nights/+packages. Agadir Airport transfers cost €20 per way. Agadir Bus Station or Agadir Hotel transfers cost €10 per way.
---
Surf yoga retreat Week Prices
€520 (6 yoga sessions)*
€570 (12 yoga sessions)*
* Prices are per person per week. Guests are welcome to stay longer or shorter than 1 week as our retreats are ongoing.